CAFM software: Why you need it and what advantages it has for your facility management
The digital transformation isn't stopping at the real estate industry's doorstep. New, dynamic software solutions are ensuring that facility management evolves to meet the demands of today's working environments. These solutions focus on the optimal use of resources and buildings, efficient workflow management, and meeting high security standards through seamless, automated documentation. Among these innovative tools, smart CAFM software have been developed with these specific purposes in mind. But what options does the market currently offer?
Discover in our article why CAFM software are the key to driving greater efficiency in facility management, and learn what you should consider when choosing the perfect system for your needs.
CAFM software is a comprehensive tool that combines multiple features in one place. This means you no longer have to resort to various individual solutions.
CAFM offers many advantages, like gaining a work overview and reducing coordination effort. That is especially true for complex organizations and companies.
However, the introduction of such systems requires substantial commitment of resources. Lean and easy-to-implement solutions are often completely sufficient for most of the teams.
CAFM, or Computer Aided Facility Management, assists users with facility management applications and processes. Typically, it's a blend of a database and a user interface.
CAFM systems are at the forefront of the digital transformation, a shift that has penetrated the real estate industry. Also known as PropTech, these applications primarily aim to reduce administrative effort and associated costs. The aim is therefore to make better use of existing resources.
The main advantage of CAFM software is its ability to centralize various application areas, making the need for individual solutions obsolete. Manual processes that once required handwritten notes, phone calls, and extensive data transfers are eliminated, allowing these resources to be reallocated to the core business. The days of protracted, confusing administration are over. 
The TOP 7 advantages of CAFM summarized:
Time and cost savings 

Simplified planning and execution of

maintenance

and repairs

Complete documentation on demand

Increased safety in accordance with operator regulations 

Automation and simplification of processes

Increased efficiency and quality

Clear job distribution and communication
CAFM software: Differentiating Between Asset Management and Building Management
Distinguishing between new terminologies and service offerings can often be challenging. Technical jargon and abbreviations can complicate matters further.
However, once understood, these terms can be instrumental in differentiating among various solutions.
Asset management, as the name suggests, pertains to managing assets, which may include technical equipment, buildings, and infrastructure.
The goal is to ensure optimal usage throughout the lifecycle, thereby enhancing the value of assets. This approach involves maintaining records of maintenance plans and key metrics, which in turn simplifies investment decisions.
Contrary to facility management, asset management is not focused on the physical condition and use of the property or real estate.
Building management is a subarea of facility management that is only used during the operating phase of a property. It is usually divided into the areas of technology, infrastructure, commercial administration, and optimal space management.
During real estate use, tasks such as installation, maintenance, modernization, planning and controlling fall under facility management. The abundance already shows that this makes more sense for larger and more complex buildings and facilities.
For less complexity, simple property maintenance is usually sufficient.
What features does a CAFM software offer
The fundamental advantage of a CAFM software is that it is a
comprehensive all-in-one solution.
As a user, you will find various work areas directly united here, instead of having to resort to multiple other individual solutions.
A CAFM software offers the following functions, among others:
Technical Facility Management

Service & Maintenance

Asset Management

Technical documentation

Energy Management

Facilities cost management

Cost calculation

Reports & Figures

Budget management

Personnel accounting

Infrastructure management

Site and zoning plans

Building cleaning

Key management

Logistics services

Operational management

Project Management

Task management

Order Management

Quality Assurance

Process Support

Multi-client capability

External service providers

Complementary integration

Legal & Risk Compliance

Regulatory portals

Risk Assessment

Requirements & Competencies

Visualisation
Different types of software solutions for facility management - A market overview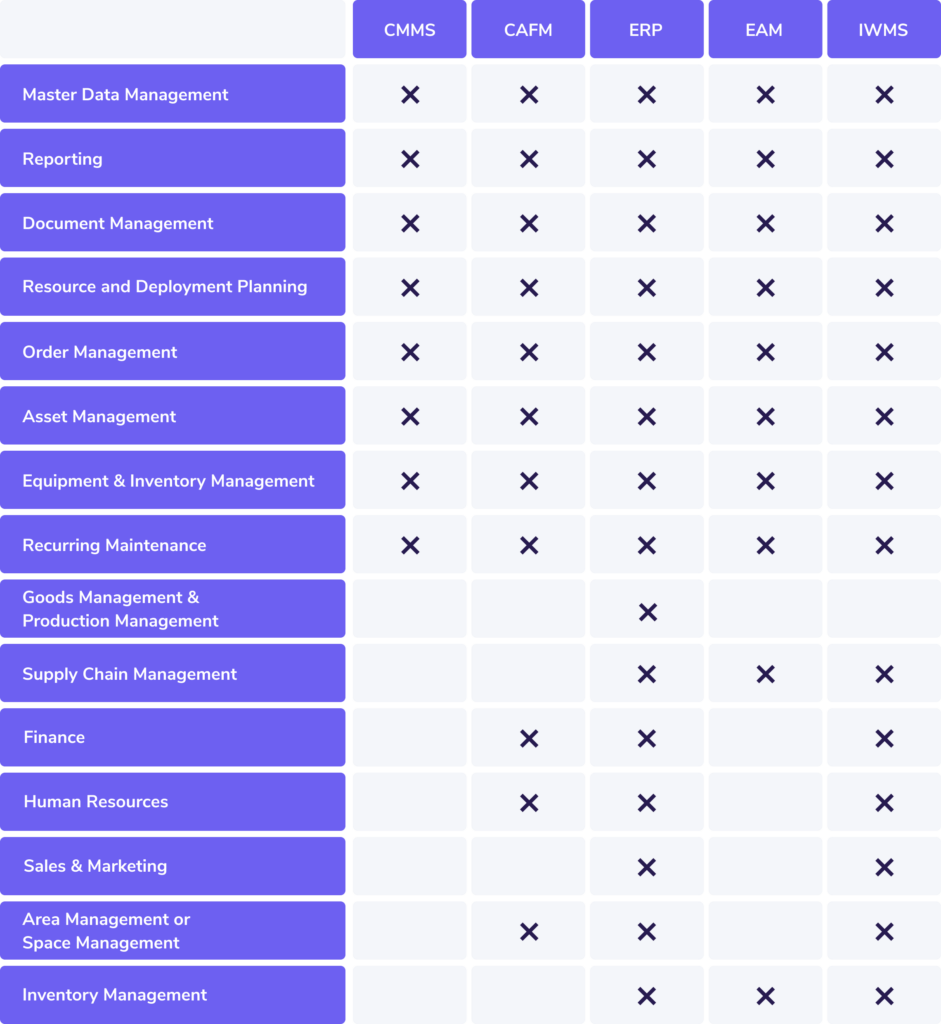 Navigating facility management software can be challenging due to the wide range of options available. Different software offers specific functions for various areas of use, and sometimes the integration of smart combination solutions can make it hard to distinguish between them. Here, you can gain a clear understanding of the differences in simple terms.
CMMS (Computerized Maintenance Management System)
A Computerized Maintenance Management Information System (CMMS or CMMIS) is a software designed for maintenance and service tasks. It finds extensive utility in the operational management of buildings, ensuring efficient and effective maintenance practices.
The main goal is to centralize information and simplify maintenance management by digitizing physical documents and introducing automation.
CMMS software primarily simplifies three key areas:
Work order management

(Ticketing)

Recurring maintenance

Asset management
ERP (Enterprise Resource Planning)
ERP software plays a crucial role in facilitating resource planning for companies and organizations. These systems offer automated management, control, and analysis of intricate business processes. Interestingly, CAFM systems already encompass certain functions found in ERP software, catering to the needs of facility managers.
The adoption of an ERP system primarily results in enhanced efficiency across various domains such as:
Human resources
Finance
Logistics
Manufacturing
EAM (Enterprise Asset Management)
EAM software solutions play a crucial role in asset management, enabling companies and organizations to effectively oversee their operational assets.
By leveraging EAM systems, businesses can optimize quality, utilization, and lifespan of assets. That in turn can result in enhanced capital planning, risk management, and maintenance strategies.
The comprehensive benefits of utilizing EAM software include reduced operating costs and increased productivity throughout the entire asset lifecycle, from acquisition to disposal.
IWMS (Integrated Workplace Management System)
The IWMS, or Integrated Workplace Management System, is a valuable tool for effectively managing workplace resources, especially in field service or hybrid work models. It allows for monitoring of utilization, working hours, and performance, providing insights to enhance efficiency.
Additionally, an IWMS assists in managing a company's infrastructure, inventory, and real estate portfolio. In projects, it streamlines decision-making by analyzing strategic scenarios, simplifying the process and aiding in informed choices.
7 benefits of a CAFM software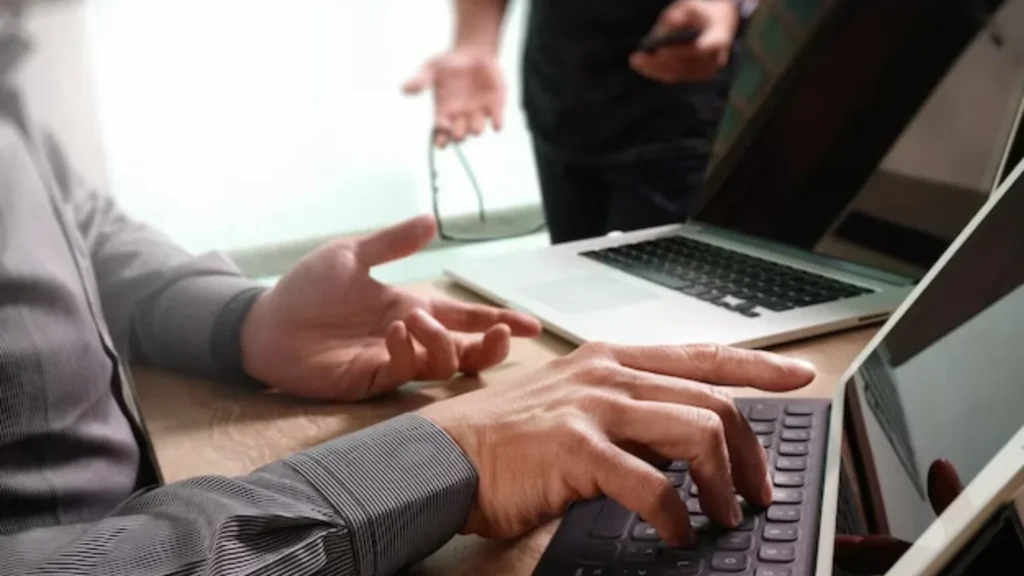 CAFM software offers numerous advantages beyond centralizing multiple applications. When utilized effectively, it empowers you to enhance facility management tasks, fortify your team, and unlock untapped potential.
Real-time recording allows you to keep an eye on your costs at all times. Cost drivers and inefficiencies can be quickly identified and redesigned. The reports generated by the system give you concrete recommendations for optimising processes and budgets.
2. Automation maintenance and upkeep
Are you losing precious time constantly picking up routine procedures? Recurring tasks, such as maintenance intervals or standard protocols, can be fully automated in a CAFM.
Once everything is united in the system, you replace tedious manual processes. Your team gains clear access to existing knowledge, which remains secure within the company. You then deploy your resources where they will achieve the greatest benefit.
3. Complete documentation
For an overview of your key figures or verification of your operator obligations: by centralizing all important information, you always have up-to-date documentation at your fingertips.
4. Optimization of your efficiency
Predictive maintenance optimizes the utilization of assets. The system swiftly identifies maintenance requirements, allowing for timely scheduling. Enhanced communication expedites coordination, minimizing operational downtime.
5. Simplified task management
With CAFM software, responsibilities can be clearly assigned and the coordination effort minimized. This allows you to retrieve and prioritize the status of all orders via centralized task management. Say goodbye to the tedious manual merging from multiple programs, where the overview is often lost
6. Increase security and guarantee legal compliance
CAFM helps you to ensure that the necessary regulations in the sense of the operator regulation are complied with and you can check this using checklists. Such a procedure in turn helps you to save costs because potential violations are prevented by early problem detection. Should a claim still occur, the system provides you with gapless reporting.
Ongoing performance monitoring ensures that you can keep the quality of your facilities management up to date. This keeps your standards high and allows you to continually improve your processes.
Smart Facility decision-making tools help you target the levers you need.
What CAFM software is available? 5 tools in comparison
CAFM software is a complete solution. However, the difference often lies in their complexity. Find out about the features of some of the CAFM systems on the market in this comparison:
| | | | | | |
| --- | --- | --- | --- | --- | --- |
|   | Planon | PitFM | Archibus | IBM Tririga | eTASK |
| GEFMA certification | ✔ | ✔ | ✔ | ✔ | ✔ |
| Task Management | ✔ | ✔ | ✔ | ✔ | ✔ |
| Key Management | ✔ | ✔ | ✔ | ✔ | ✔ |
| Project Management | ✔ | ✔ | ✔ | ✔ |   |
| Cloud service | ✔ | ✔ | ✔ | ✔ | ✔ |
| Mac OS support |   |   | ✔ | ✔ |   |
| Free software version |   |   |   |   |   |
| Free demo | ✔ |   |   | ✔ |   |
When do you need CAFM software?
CAFM software can help you keep control – especially if you operate several asset-rich buildings. Even large and complex properties can be effectively managed for space planning, booking, and infrastructure.
Detailed inventories and lists of assets or parts of assets are centrally recorded and their current status and whereabouts are tracked.
As a result, public buildings and infrastructure facilities are among the largest users of CAFM. Compliance with operator obligations, complete documentation and rapid troubleshooting are particularly important. 
Challenges of CAFM: Is it right for you?
Despite the benefits, the purchase of a CAFM should be carefully considered. Large all-in-one solutions are not always the best solution.
The 3 biggest challenges in CAFM adoption
High costs: Licences for CAFM software are expensive.
So calculate your budget carefully.
Human resources: Software needs to be implemented and people need to learn how to use it – this requires a dedicated task force.
Implementation time: To integrate a complex CAFM tool into current operations, a time span of six months to two years must be expected.
Depending on the size and complexity of the organisation or company, there are different needs. Before choosing CAFM, it is, therefore, necessary to decide which functions are needed and to what extent. Often leaner solutions will suffice.
Wowflow is an easy-to-implement alternative to traditional CAFM software. But even if you already use facility management software, you can add selected functionality with the Wowflow add-on – quickly and easily.
Wowflow offers an uncomplicated alternative to traditional CAFM. See for yourself: Free Wowflow Demo
Wowflow - key features at a glance
Now that you know the main features of CAFM software, you know how complex the available solutions are.
How does Wowflow differ from traditional CAFM?
Wowflow is primarily a task and collaboration tool.
The software can be used as a complement to your existing CAFM system, avoiding the need for major new purchases. For example, you can give your field staff an intuitive workflow application and collect data directly into your existing system. In this case, Wowflow serves as an add-on to your CAFM.
At the same time, Wowflow can facilitate the work of facility managers without using a CAFM tool. Not every facility management provider needs the complex software that most CAFM tools offer.
The range of features can be overwhelming and make work difficult. That's why Wowflow offers a simple solution to make work easier, collaborate as a team, manage jobs, and manage assets.
Wowflow is therefore can be a simple, easy-to-implement alternative to existing CAFM software.
What Wowflow can help you with
Work Order Management Software Facility Management Manage orders and processes with ease.
Asset Management Software Efficiently manage your assets and equipment.
Staff scheduling Plan your staff resources easily and clearly. One-stop task management, time tracking and team communication.
Project Management Your company data is always available in the system. This allows you to plan different projects in detail and keep track of their progress. You get smooth communication, optimal use of resources and full cost control.
Maintenance software Fulfil your duties as an operator without any problems. Wowflow reliably supports you in managing and optimising maintenance schedules and processes on time. The necessary resources are directly taken into account.
In addition, Wowflow makes it easier for you and your team to work together with frictionless collaboration and seamless documentation.
Task Management Are you tired of tedious manual processes, loose notes and phone calls where you quickly lose track of everything? Wowflow's task management clearly displays your to-dos. Real-time reports give you a status overview and allow you to quickly prioritise work on a case-by-case basis.
Key Management Reliable key management in few clicks. Solve one of the main problems in facility management with this feature. Lost keys are a thing of the past.
Centralised ticketing Whether by app or post, tickets are registered, allocated and tracked in one place. Long gone are the days of manual documentation and forgotten work orders.
Automatic time tracking Always up to date. See which team member is working on what for each item. Conveniently linked, you have all important documents in one place. You can also export any data at the touch of a button.
CAFM systems are part of the digital transformation of facility management. The comprehensive software solutions ensure that companies and organisations can adapt their work processes to the increasingly dynamic environment.
The main benefits of CAFM are increased efficiency through cost and time savings in the management of corporate real estate and property. Task management, reports, and safety regulations can be centrally managed and accessed.
However, implementing a CAFM is not a quick process. Choosing the right vendor and the right scope of services can involve time-consuming implementations and training. Licensing costs are also not affordable for every company.
The Wowflow software provides an easy way to take your facilities management to a new level of efficiency.
If traditional CAFM systems are unnecessarily complex for your organisation, Wowflow is the right alternative for you.
You already have a CAFM, but are not completely satisfied? That's no problem either. Simply extend your existing CAFM with the Wowflow add-ons you need.
Subscribe to the newsletter
FAQ: Computer Aided Facility Management Software