"Wowflow is the perfect solution for us: we don't work for the software, the software works for us. I would recommend it to any facility management service provider."
Mario Fijala,
CEO Reiwag Facility Services Croatia
Company:
The REIWAG Group was founded in 1903 by Mr. Jakob Wagner. Today the company is one of the most successful in the facility services sector. In addition to the location in Austria, there are subsidiaries in Croatia, the Czech Republic, Serbia, Romania and Slovakia.

Industry:
Facility management services

Web:
www.reiwag.hr
The REIWAG x Wowflow Success Story
When Mario Fijala, Managing Director of REIWAG Facility Services Croatia, first came into contact with Wowflow, he knew: This is the right software for us. A few months after the implementation, not only is he more than satisfied with the results. For its part, Fijala was able to convince customers of our project management tool.
"The best thing about Wowflow, in my opinion, is the simple and intuitive usability. Many of our customers noticed this immediately and decided to implement the facility management software as well. The CCC shoe store is one of our best examples: The team uses Wowflow every day and is very happy with it. "
The problem: Complicated CAFM software
"I have worked with other market-leading CAFM solutions in the past, that should make the day-to-day work of a facility management team easier. Unfortunately, they almost never did that. Most programs are too bulky, too slow and do not bring the desired benefit. It sometimes took ten minutes to enter all the data. In addition, we had to keep telling our employees how to use the software and THAT they should use it. We used the support regularly, for which time was also spent. When I came to Reiwag it was clear to me: We need a CAFM application that is easy to use and fast. I then asked around in my area. A customer highly recommended Wowflow."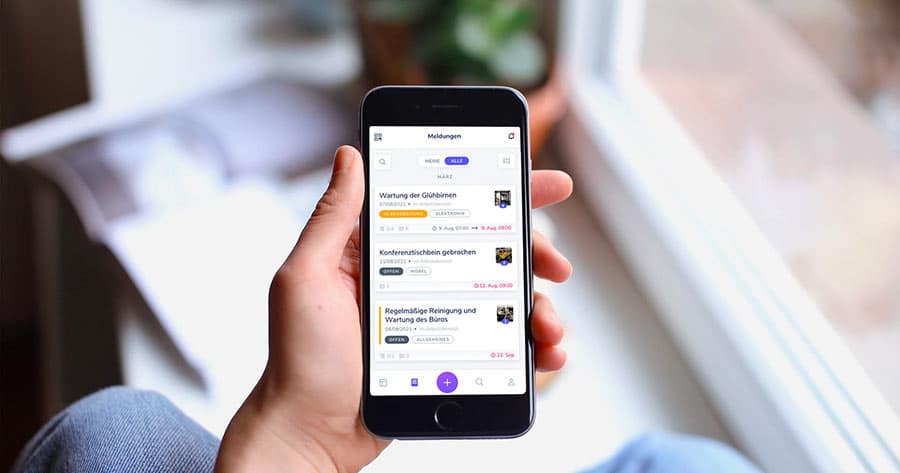 The solution: A time-saving and intuitive application
"A lot has changed with the implementation of Wowflow. I now have to call our facility managers much less frequently. It's easy to provide instructions or clarify questions in the comments section of a report. Communication takes place almost exclusively via the app. This leads to fewer misunderstandings – not to mention the enormous time savings. "
Although Fijala, as managing director, does not actually use the application, he appreciates Wowflow very much: "I have all important PDF reports sent to me directly by email. This function is extremely valuable to me personally. So I always have an overview of my colleagues' work and can react immediately."
The Wowflow team is also on hand if you have any questions or uncertainties. "Mr. Ivanis and his colleagues always take care of my problems quickly. As a customer, you feel that you are in good hands. I am sure that our cooperation will be a long-term one – also because, in my opinion, there is currently no better maintenance solution for facility services on the market."
The results: 15% time savings per employee

100% data
at one click
15% time savings
per employee
one week
implementation
The results achieved are impressive: Although relatively few Reiwag employees are still working with Wowflow, a time saving of 15% per employee has already been determined. Less time is wasted on administrative tasks, which means management can act much faster – completely without frustration and manual work. Reiwags facility managers are also convinced: "Wowflow is the best solution I've ever seen."
100% of the data can be called up with just a few clicks. Fijala always and everywhere has an overview of what its colleagues are doing. This saves him tedious and long phone calls to find out what is currently being worked on. In addition, he no longer has to search through long Excel lists for the right invoice for a customer. Everything is in one place.
"It took less than a week to implement Wowflow," said Fijala. This is remarkable compared to his previous experience with CAFM software. In addition to Reiwag Croatia's own facility managers, their customers were also quickly won over. You asked for access to the app and bought the license – meanwhile, the cooperation is pleasant and easy.
From Fijala's point of view, there are three big advantages that Wowflow brings:
Usability – Really anyone can use the app and the desktop application. The maintenance program is designed so user-friendly that the implementation is hardly any effort.
The simplicity – With other programs it often took forever to enter all the data. With Wowflow this is very quick: I create a report on site, take photos, add documents if necessary and assign the task to a colleague.
The time saved – Nothing is more tedious than lost documents. And the search that follows. With Wowflow we have everything in one place. Every team member knows where to find the appropriate information. In addition, data can be exchanged in real time – that makes our work easier.
Would you like to convince yourself of the quality of our maintenance tool? Then book a demo appointment directly with our team.