"Communication with our facility managers is very different with Wowflow than it used to be. I'm finally getting responses to my messages."
Manuela Rechling,
Assistant to technical management
Company:
As a property management and real estate service, P17 not only looks after residential properties, but also commercial and commercial properties. In this area, the company can fall back on an Austria-wide network that benefits the success of its customers.

Industry:
Property management and real estate service

Web:
www.p17.at
P17 Real Estate Service x Wowflow | A successful collaboration
The problem: Employee growth with increased communication and coordination effort
"Our team at P17 Real Estate Services has grown relatively quickly in a short time. What is often not taken into account when the number of employees increases: The structure of internal communication and the project management must be adapted. It makes a big difference whether I have to coordinate with one colleague on a daily basis or with five. While in the first case a phone call is not very important from time to time, five calls – possibly several times a day – take up a lot more time."
"Two other communication channels that we used were classic face-to-face communication and emails . However, personal conversation requires the presence of both parties and is therefore often simply not possible. In addition, it is very time-consuming – there are travel time and costs. There is no documentation of the conversations. This point is extremely important, but unfortunately it is often forgotten. "
"The problem with e-mails is different: they were often not answered and remained completely uncommented – which is partly understandable. The reason: Our facility managers are mostly out and about in the real estate to be managed. You don't do your work on the computer all day. E-mails are often overlooked or processing is not at the top of the priority list. We in the administration could therefore never be sure whether the message had reached the recipient. Sometimes this situation led to unpleasant results. For example, when broken sanitary facilities were not repaired quickly enough due to a communication problem. "
"Our managing director Ms. Auinger therefore looked around for a solution. She came across Wowflow. "
The solution: software for technical operations management that copes with the greater effort
After some online research, it quickly became clear to Ms. Auinger: The property management software Wowflow is the best solution for P17 to manage the team growth. Why? "The decisive factor in the decision was the fact that the founder Mr. Ivanis himself was the technical manager. We didn't want to get involved in the solution of a start-up that was founded by students who had not yet had any "field experience" themselves. What we wanted was uncomplicated software for technical operations management. It should save us time and make our work with our facility managers easier."
Communication before
E-mails, phone calls, face-to-face conversations, weekly jour fixe

Communication today
Wowflow
"Also of importance: The software has to fit into the overall structure of the company. If our employees in facility management have to change and bend too much, an implementation makes no sense for us. At Wowflow, we quickly realized that this would not be the case. We already received positive feedback from the team at the first training meeting. "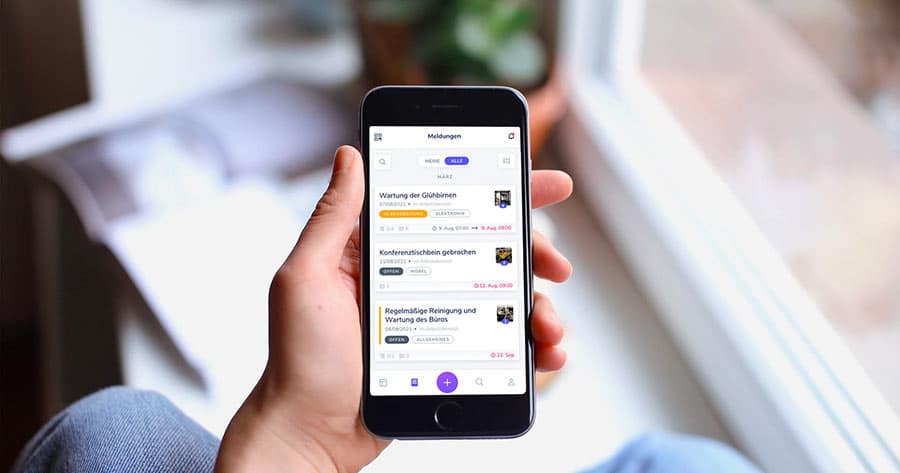 The result: No unanswered emails, instead completed tasks and time savings
"We clearly made the right decision with Wowflow, now we have communication and coordination fully under control. Just by the elimination of the weekly jour fixe in which all colleagues had to take part, we save at least one hour or seven if you add up all members. Of course there's also the time saved by the individual facility managers. These add up to approximately one to two hours a week – the result of automated processes and simplified communication."
"But the property management software is not only beneficial for colleagues in the field. We in the office also benefit noticeably: No more unanswered emails, no more long phone calls. We know where our team is and which reports are being processed."
"Another big plus: We can use the documentation or reports that we pull from Wowflow directly for the final billing. It is no longer necessary to search for documents and photos and to merge them. With just a few clicks I get to the director's reports. I have all the information in one place. For me, Wowflow is a digital notebook that I always have with me and in which nothing can be lost, "says Rechling.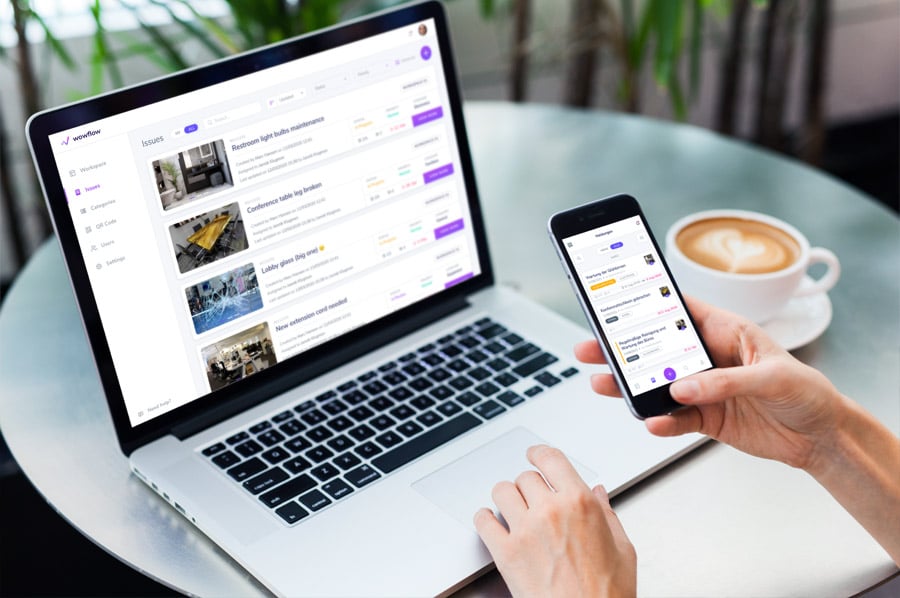 P17 Real Estate Services: The Favorite Functions
Digital to-do list – When I think of what I personally like best about Wowflow, it is this: I can use the property management software as a "digital to-do list ". Such lists are known to have a neat structure – a sample and the possibility to tick off completed tasks. This is exactly what this maintenance software does. A look at the application tells me which open messages are pending, with which priority they are to be dealt with and when they were closed. This is extremely work-saving for me, as I sit in the office while our team of facility managers is on the road. I'm also sure: If we get more employees in the future, that won't be a problem for Wowflow either.
Reports with signature – Very simple. But very effective: Director's reports can be signed directly. I can't emphasize this enough – having everything in one place is so convenient. Since this function has existed, the property management software has been even more sophisticated for me.
Competent customer service – What we also really appreciate is the great support from the Wowflow team. Although the software is really easy to understand and intuitive to use, I was happy to contact customer service from time to time. The answer was always prompt and reliable. The employees of the start-up took care of our concerns with a lot of patience and understanding. You can tell that there is a lot of competence and a love for your own product. It's always nice to see and it also gives us as customers a good feeling.
Your team is growing and you are looking for reliable software for technical management ? Then follow the P17 real estate services! Our team is available for demo calls.