The year has just started, but we have already optimized our facility management and cleaning software for 2023. Two updates are waiting for Wowflow customers.
1. Checklists
From now on, you have the possibility to add checklists to issues and maintenance. There are two ways to integrate them:
You create a checklist template. Go to Templates > Checklists. Here you can prepare your list. If tasks are not unique, but occur on a regular basis, templates can help you to be more efficient (e.g. the same service specifications for certain tasks). Once you create a specific Issue, click on the "+", select "Checklist" and click "+ load from template". Of course, the list can still be extended manually. Or you can attach documents and photos.
In the second option, you create the checklist without a template. So after you have created the Issue, click again on the "+" and select "Checklist". Now create your individual list.
The person working on the task can then check off the items (also in the mobile app). They can – if necessary – also add descriptions or attachments. The big advantage? The manager has an even better overview of the completion of the task. The employee knows exactly what they have already done. In addition, each item on the checklist can be immediately converted into a (sub-)issue. This saves time if necessary.
2. Public forms for Workspaces
We already know the personalization of public forms from the Equipment feature. From now on, this update is also available for Workspaces. What that means? When an external person scans a Workspace QR code, a form opens. This form is used to create a new Issue. And to make this process fit your company visually and usability-wise, you can customize the form to your needs:
Upload your company's logo.
Write a suitable headline and a short description.
Define whether your company information should be displayed.
Define those fields that should be displayed. And whether they are mandatory to fill in.
Make color adjustments to the button at the end of the form.
Specify a website to be redirected to after submitting the form.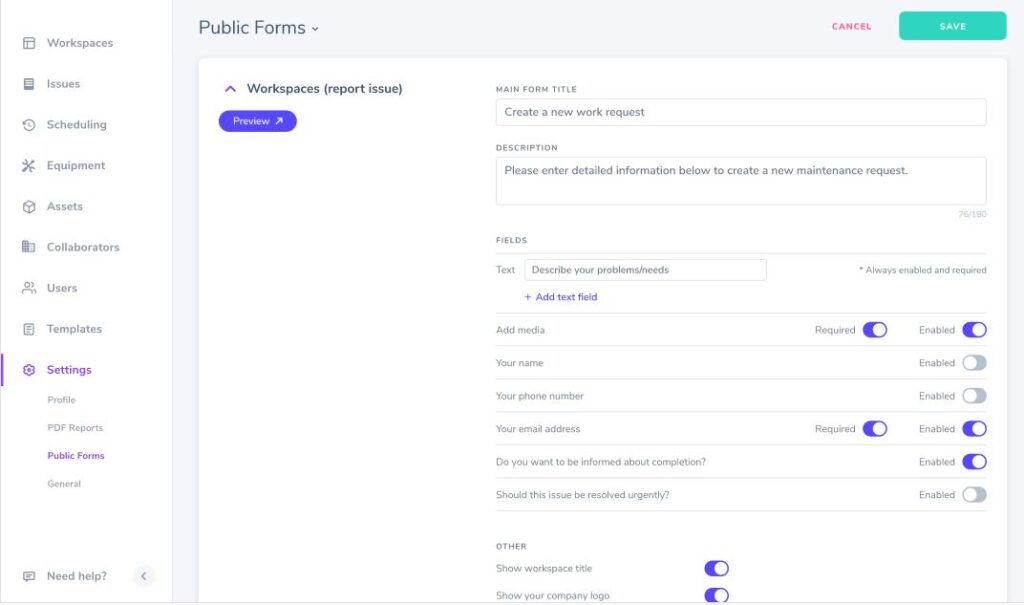 Do you have questions about the changes? Get in touch with us!