The cleaning industry employed 2% of the whole workforce in Austria in 2019 – that means 75,900 people. More than half of them are female. Why is the industry booming? Because outsourcing tasks within companies is becoming more and more the norm. Especially cleaning office buildings and residential complexes is hardly done by a property management company itself. These tasks are outsourced to specialized cleaning companies. The ulterior motive of outsourcing? Cost reduction. That leads to a tougher competition between the individual cleaning service providers and more pressure for the employees in the industry.
In the following blog post, we take a look at why so many people nevertheless work in cleaning and what reputation the industry has as an employer. We then take a closer look at the topic of digitalization in cleaning and highlight the potential that is hidden in the industry.
Low entry barriers into the cleaning industry affect the employment structure.
Yes, it's true: In many cases, you only need a few technical qualifications to work as a cleaning professional. Bettina Stadler points out in her study "Da müssen wir wirklich etwas ändern. – Problemlage, Arbeitsrechtsberatung und Rechtsschutz in der Reinigungsbranch" that there is a clear difference between women and men in terms of the level of education of workers in the industry. In 2019, 44 percent of employed women had a compulsory education, compared to only 26 percent of men. However, 47 percent of men had an apprenticeship degree, but only 24 percent of women.
Despite the fact that no "real" education is required to work in the cleaning industry, the work demands a lot from both men and women: the physical exertion of cleaning work in particular should not be underestimated. In addition, there are working hours at the edge of the day. Most cleaning work is done in the morning and evening. And often at different locations and in different buildings. This sometimes means long travel times, a lot of organizational effort and a disjointed workday – but still no higher pay check. On top of that, those who want to be employed full-time usually have a hard time.
Women as drivers of the cleaning industry.
And that's exactly one of the reasons why many women work in commercial cleaning: the opportunity to work part-time. Nearly half of all people employed in the industry worked part-time in 2019. For women, that number was a full 62 percent. The job in cleaning is a great opportunity for women, who want to start working again besides childcare and other household duties. What we should not overlook in this regard is that 17 percent of women would like to work more. Unfortunately, this is often difficult to combine with a mother's daily routine.
A big problem, especially with a part-time job: The employed person does work more than originally agreed in the employment contract and neither the employee nor the employer notices. How can this happen? It's quite simple: due to fluctuating working hours from week to week. Especially if the working hours are not properly documented, it is easy to sweep them under the carpet. Every week, the cleaning specialist receives a new duty roster with different working hours and thus has no sense of whether or not he or she has ultimately worked overtime. At the end of the month, the cleaning staff has to deal with pointless discussions that lead to mistrust and dissatisfaction.  It is precisely in these cases that digitization with the help of cleaning software can provide a solution and ensure greater transparency. But more about that later.
Many employees in the industry come from different countries.
Bettina Stadler's study shows that 68 percent of women and 49 percent of men in the cleaning industry have a migration background. In other service professions, however, the figure is only 21 percent. A particularly large number of employees come from the countries of the former Yugoslavia (27 percent).
Unfortunately, the training that these people undergo in their home countries is not always recognized here in Austria. Compulsory school-leaving qualifications, A-levels or even completed university studies are suddenly no longer worth anything in the new home country. As a result, people have to look for work in positions for which they are basically overqualified. We don't even need to talk about the low income. Unfortunately, these are not good conditions for satisfied employees, and we see a major problem here that should be addressed as soon as possible.
In addition, the language barrier is a problem in everyday work. But it is easier to "overlook" this inconvenience in the cleaning industry than in other areas. For the cleaning activity itself, little to no verbal communication is necessary and the work orders can be given using a translator app or multilingual colleagues. Nevertheless, especially when communicating customer complaints and additional tasks, misunderstandings occur. This leads to a high level of dissatisfaction on the part of customers, supervisors and employees. However, it could be so easy if the right tools were used. In Wowflow, for example, all users have the option of using the app in their native language. With the built-in Google translator, it no longer matters in which language a message is written – the recipient can translate it with one click. Digitalization doesn't stop at cleaning services. And it shouldn't.
Employers in the cleaning industry have to deal with high employee fluctuation.
Without a doubt, another characteristic of the cleaning industry: high employee fluctuation. This problem is due to several factors, which we will address in more detail.
High pressure
The pressure in the industry is high – both for employers and employees. For the former, especially because a constant price war dominates the market. At the beginning of this blog post, we already mentioned that the cleaning industry has developed due to outsourcing of business tasks and that the goal of this was to minimize costs. So, from the very beginning, the industry was dominated by wanting to be as cheap as possible. In one of our previous articles we discussed the topic of "correct calculation of hourly rates in commercial cleaning". At that time we already mentioned that many cleaning companies earn their money mainly with the "non-worked" hours of their employees. That means that the cheap hourly rates justify themselves through a restructuring of the employee's work hours. If the employee works less hours than initially offered to the client, he or she makes sure that the money flows. So, the difference in the hours has to be compensated by the employees on site and this in turn often results in an unreasonably high pressure. The employees will not particularly appreciate this workplace – that is obvious. The cleaning company will have to deal with a high employee fluctuation on this project.
Physically hard work
The physically demanding work in the cleaning sector also contributes to the high employee turnover. Where some applicants do not even qualify to work in the industry, others quickly realize that they have underestimated the physical exertion. If, under the above-mentioned conditions, work also has to be done as quickly as possible, the resignation is quickly handed in. In addition, cleaning specialists are required to be very flexible and spontaneous in order to replace the absences of their colleagues. This means that schedules vary from week to week. However, better planning and clearer work instructions and documentation using appropriate cleaning software can help employees to know their tasks clearly and to have a higher degree of planning themselves, rather than having to step in at the last minute.
Low income
The collective agreement (Kollktivvetrag) that applies to employees in the cleaning industry is the Kollektivvertrag für die Denkmal-, Fassaden- und Gebäudereinigung. This stipulates that the gross hourly wage for wage group 1 is 11.26 euros and for wage group 6 9.23 euros. By way of comparison, a skilled worker in the construction sector has a minimum hourly rate of 16.02 euros, and "other support staff" must earn at least 12.50 eruo an hour. However, a cashier in retail, for example, does not really earn more than a cleaning specialist. For all those who can find a good employer in the cleaning industry, this is a good reason to be satisfied at work.
No identification with the employer
Unfortunately, often employees in the cleaning industry have little to no identification with their employer. What do we mean by this? At Wowflow, for example, everyone has a permanent place in the team. Every single person brings his or her own important skills to the table, which are encouraged. Regular team events bring people together and foster a working community – even if the members are spread all over Europe. This aspect of "working together to make something great happen" is unfortunately often missing in the cleaning industry – but it can be prevented. Especially with a building cleaning software, every single employee is connected with the team or the object managers in the office at any time. There is the possibility to document the work, to see successes immediately and of course to be praised for it. You reach the goal as a team instead of as a lone fighter. In the case of Wowflow, we have observed an enormous increase in the sense of belonging to the company.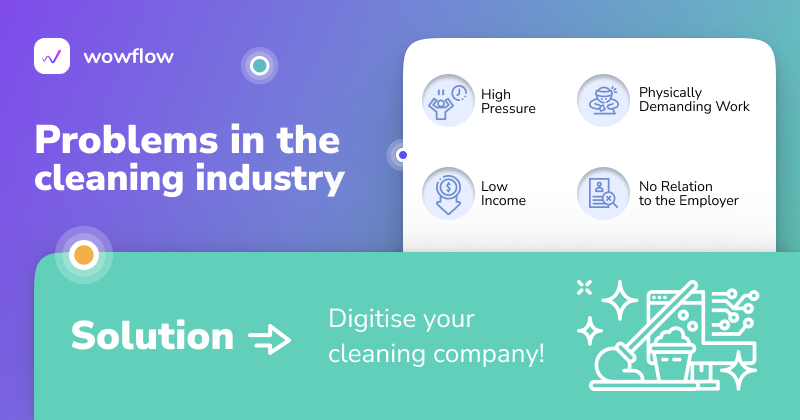 Digitization of cleaning companies can help eliminate the above mentioned problems.
Fact is: the cleaning industry is an extremely important industry – namely important for every single one of us. Without cleaning professionals who ensure our clean workplaces, clean public transportation, clean hospitals and doctors' offices, restaurants, supermarkets, etc., etc. the rest of us would have plenty of inconveniences to deal with. And that's why it's so important – especially on the part of employers in the industry – to show appreciation to these people. In our opinion, this should not only include verbal or written feedback, but also creating optimal working conditions.
Digitalization is advancing fast and steady and it does not stop for the cleaning industry. Various software solutions help employers to jump on the bandwagon and make work a bit easier for employees and management alike.
How does digitalization help the cleaning industry?
For example, a good cleaning software makes work easier for people with different mother tongues. Wowflow can now be used in more than 10 different languages – from German and Italian to Turkish and Polish. This means that every employee can communicate with colleagues without any problems – and without any unpleasant situations or misunderstandings in everyday working life.
In addition, the appropriate software ensures that every single cleaning task is documented in the best possible way. This not only gives the boss a better overview, but also gives employees the certainty that their activities cannot be swept under the carpet. The bottom line is that it is easier to see how many hours were actually worked. Transparency is the key.
Precise documentation and, above all, precise planning can also reduce pressure on employees. Especially tasks that occur regularly and are therefore scheduled in advance in the software can be structured better this way. And unfortunately, structure is often missing in the cleaning industry when work is done without the appropriate tool. Therefore: Prevent this and use a building cleaning software that makes the daily work easier for you as well as for your team. If they can "only" save themselves one hour of pointless phone calls for research and clarification, that's already 22 hours per month! And especially if you want to be an optimal employer in the cleaning industry and attract only the best employees, this investment is worthwhile.
Wowflow customers include many cleaning companies that have already discovered the benefits of digitalization. Read more!